Sean McVay Gets More Attention But Doug Pederson Has The Ring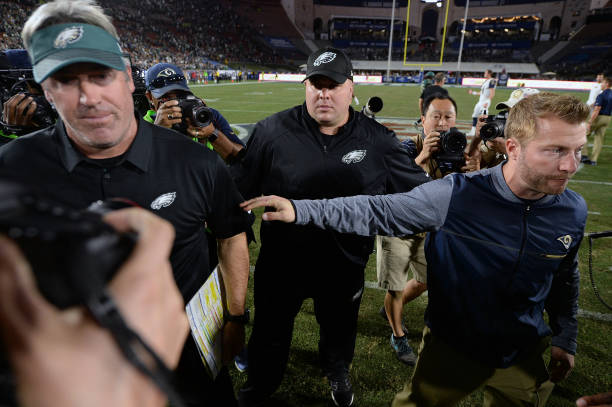 By ROB MAADDI
Sean McVay has never lost a game that started at 1 p.m. EDT. He's never beaten Doug Pederson, either.
Something has to give Sunday.
The coaching matchup is one of the main story lines when the Los Angeles Rams (1-0) visit the Eagles (0-1) in Week 2.
McVay gets more national attention than Pederson but publicity doesn't win championships. McVay has the photographic memory. Pederson has a Vince Lombardi Trophy.
Pederson led the Eagles, with backup quarterback Nick Foles, to a 41-33 win over Bill Belichick, Tom Brady and the New England Patriots in Super Bowl 52.
McVay's vaunted offense could only muster a field goal against the Patriots in a 13-3 loss in the Big Game the following year.
Pederson wasn't intimidated by Belichick. He approached him for a pre-game chat with confidence and later said in his book: "I looked at him, and thought, 'I'm going to kick your tail, definitely going to kick your tail.'"
Then he went out and coached like it.
McVay sounded like he was going to kiss one of Belichick's rings when he walked up to him before kickoff. In a 30-second chat, he told Belichick he has "so much respect" for him three times and finished with: "You're what's right about coaching."
McVay then proceeded to coach scared and the Rams played that way.
This will be the first time Pederson and McVay face off in Philly. The Eagles beat the Rams in Los Angeles in December 2017 when Carson Wentz tore two ligaments in his knee. Wentz left that game with a lead after throwing a touchdown pass following his injury. After the defense gave it up, Foles led them to a pair of field goals and a win that helped the Eagles end up with the No. 1 seed.
Foles started in 2018 when the Eagles went to Los Angeles as 13 1/2-point underdogs and beat the Rams 30-23 for the first of three straight wins that gave them a wild-card berth.
Under McVay, the Rams are 4-0 when they play games that start at 1 p.m. EDT. That's usually a tough spot for West Coast teams but they've found a way.
That streak should stop Sunday when Pederson continues his mastery over McVay.
Here's three more matchups to keep an eye on:
1. Rams defensive tackle Aaron Donald vs. interior offensive line
Wentz called Donald a "game-wrecker" and that might be an understatement. Donald is the best defensive player in the game, a two-time AP Defensive Player of the Year and five-time All-Pro.
Protecting Wentz was a problem in a stunning loss at Washington last week. He was sacked eight times and threw two costly picks that led to 14 of Washington's 27 points.
Eagles defensive tackle Malik Jackson said this week he's giving guards Nate Herbig and Isaac Seumalo tips to face Donald.
"I personally think the best part of his game is before he even plays people," Jackson said. "They are so shook before they even play him, they're like, 'Oh my God, I have to stop this, I have to stop that,' then they start thinking about a bunch of things. Then, he does what he's best at."
2. Eagles CB Nickell Robey-Coleman vs. Rams receiver Cooper Kupp
The Rams mostly use three-receiver sets so Robey-Coleman should get plenty of snaps at nickel cornerback against slot receiver Kupp. Meanwhile, Darius Slay and Avonte Maddox will have their hands full with Robert Woods and rookie Van Jefferson on the outside.
Robey-Coleman spent three seasons with the Rams so he knows some of their tendencies.
"Cooper Kupp has that chemistry with quarterbacks that he can run a route, and the quarterback will know exactly what he is doing," Robey-Coleman said. "He is strong, he can finish at the top of his routes, and he can separate. That's what makes him so unique. But for our matchup, I think it's kind of balanced across the board. He's a really good slot receiver, and I think highly of myself as well. It's going to be interesting. I can't wait, and I'm looking forward to it.'
3. Eagles' run offense vs. Rams' front seven
Without Miles Sanders, the Eagles couldn't get going against Washington. Boston Scott and Corey Clement didn't have much room to run. Right tackle Lane Johnson is back this week and that will help. The Eagles are 56-36 with Johnson on the field, 9-12 without him.
The Rams switched to a 3-4 defensive under new coordinator Brandon Stanley this season and allowed Zeke Elliott and Tony Pollard to combine for 106 yards on 24 carries in a 20-17 win over Dallas. One way to limit Donald would be to attack that defense on the ground.
Johnson would love to see it.
"It's in our DNA as linemen Whenever we've done that, our games have gone a lot better, a lot smoother. You have control of the clock and really the entire game if you can run the ball effectively."